I love this soup so much! I'd say it's hands down my favourite soup. I just love my veggies but it also tastes really good and it's super healthy. Bonus! The sweet potatoes and carrots are full of vitamin A for healthy skin and eyes. The broccoli is an excellent liver detoxer. The celery is high in potassium. The lentils are  a great source of iron and everyone knows how amazing turmeric is! Get that anti-inflammatory action going on! Also the whole meal is high in vitamin C which is really great to boost our immune systems as the weather starts to change.
I hope you love this soup as much as I do 🙂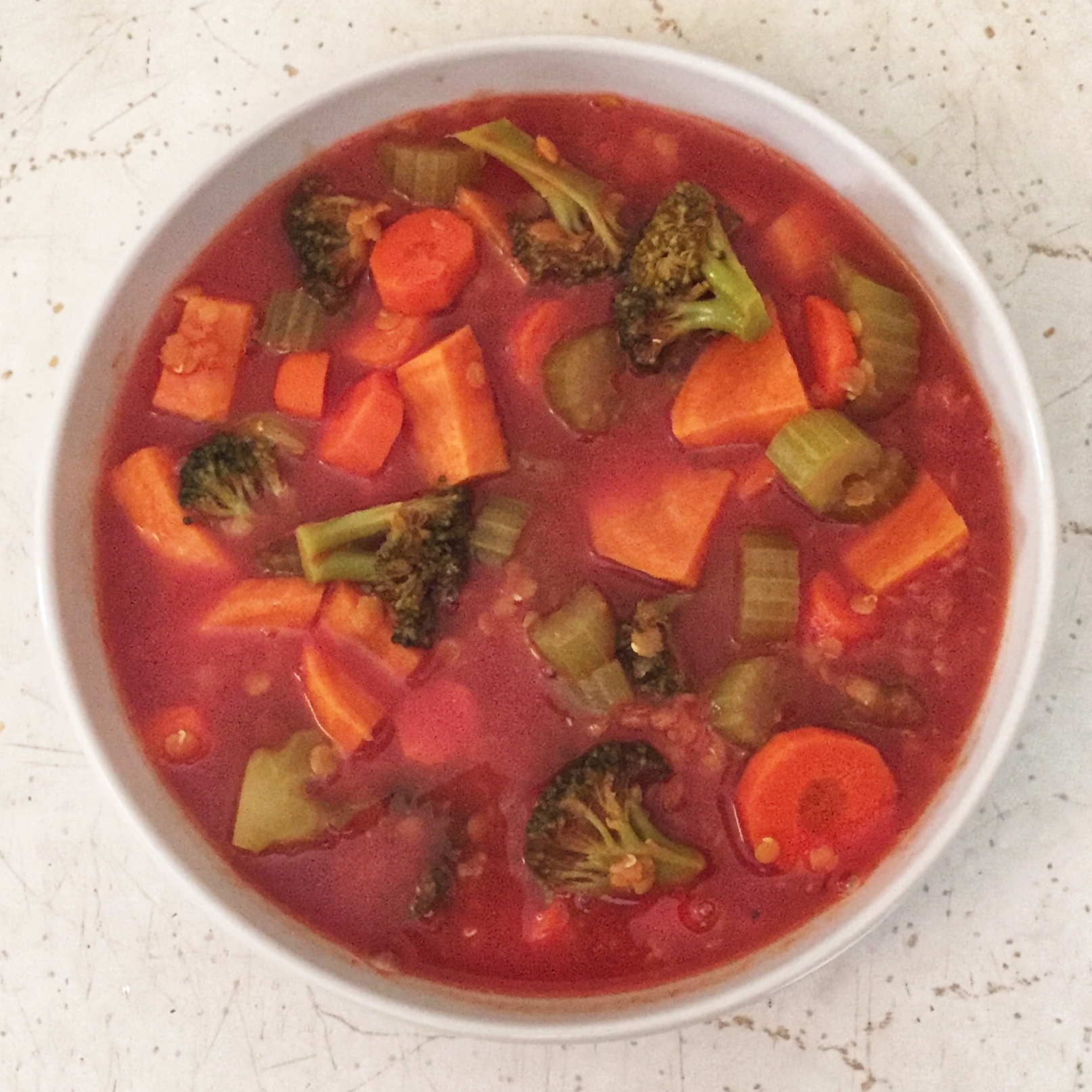 Ingredients:
Servings: 4-5
16 oz of Veggie stock
2 cups plain tomato sauce (in glass jar – avoid cans with BPA)
1 small head of broccoli
3 carrots
4 celery stalks
1 medium sweet potato
1/2 cup of red lentils
1/2 tsp of paprika
1/2 tsp of turmeric
A sprinkle (or more!) of cayenne pepper
Sea salt to taste
Instructions:
This soup is really simple to make, which is why it is a staple for me when life gets busy. I like to make large batches so I can freeze them and have healthy left overs.
So to start, pour the veggie stock with the plain tomato sauce into a large pot and turn heat on somewhere mid-range for a simmer. Next toss in the spices and stir it all up!
While that is warming up, chop up all your veggies and measure out your lentils. Once everything is chopped toss the veggies and lentils in the pot, stir, cover, and simmer for about 30 minutes or until sweet potatoes are soft. Then serve, and enjoy!
Want to join the community and stay up to date on all things health and beauty? Sign up for my free newsletter here!