Oh the glorious eggplant. We normally just think of it as an emoji used to describe something dirty 😮 This vegetable is more then just a phallic symbol though! The eggplant has a medley of vitamins and minerals and is a bit higher in Vitamin C, folate and B vitamins. It is also a great source of fiber! The eggplant is packed full of antioxidants, and one in particular: Nansunin. Nansunin is found in the skin of the eggplant, so leave the skin on! It is a free radical scavenger and it fights inflammation and oxidative stress. Bonus! It helps iron become more absorbable and it helps us detox by binding to toxic heavy metals and removing them from the body. Eggplant is a total beauty food so make sure you have it in your diet….. as long as you don't have issues with night shades!
Here is my eggplant curry recipe! I find it super warming and comforting in the winter 🙂 Please enjoy and let me know what you think!
You will need a large pot to cook the curry in.
Ingredients:
2 small or 1 medium sized Eggplant
2 Bell Peppers – any colour you like
1 cup dry Chick Peas (or 1 can of Organic Chick Peas – BPA free)
1 medium sized yellow onion
4 cloves of Garlic
1 tsp freshly grated Ginger (dried spice will work if you don't have fresh)
1 tsp Turmeric
1 1/2 tbsps of Yellow Curry Powder (Madras Curry is my fave)
1 tsp Cumin
Cayenne Pepper – optional and as much as you like!
Sea Salt to taste
1 cup dry Organic Brown Rice
1 tbsp Avocado Oil
1 1/2 cups of water (give or take a half a cup or so depending on how big or small the eggplants are)
1 cup plain Tomato Sauce
Prep:
If you use dry chick peas, make sure you soak them over night, the night before you want to make your curry.
Instructions:
Bring a medium size pot of water to boil and toss those soaked chick peas in and cook for 50 minutes – 1 hour. Taste test to make sure they are nice and soft. (I find cooked from dry chick peas taste way better and hold their structure better when cooked in this curry)
Get the rice started now so it's ready when you are finished.
Add the avocado oil to the large pot and chop up the onion and garlic and cook until clear and softened.
Next toss in the curry powder, turmeric, cumin, cayenne and sea salt. Stir it up!
Then toss in the chick peas, egg plant and bell peppers and get them all nice and coated with the spices.
Now you can add your water and tomato sauce and stir it up some more.
I add the ginger in last because it is more delicate. Stir some more, cover and cook on a medium heat for about 15-20 minutes and you are good to go!
Meal Prep Tip!
Want to have an awesome and comforting lunch to take to work? This recipe usually makes about 4 servings depending on how big those egg plants are! Simply scoop out what you want for dinner and divide the rest up into 3 containers like so, add your rice on the side and voila! Lunch!
For an extra health bonus, bring a table spoon of hemp seeds and add to your curry after you have heated it up.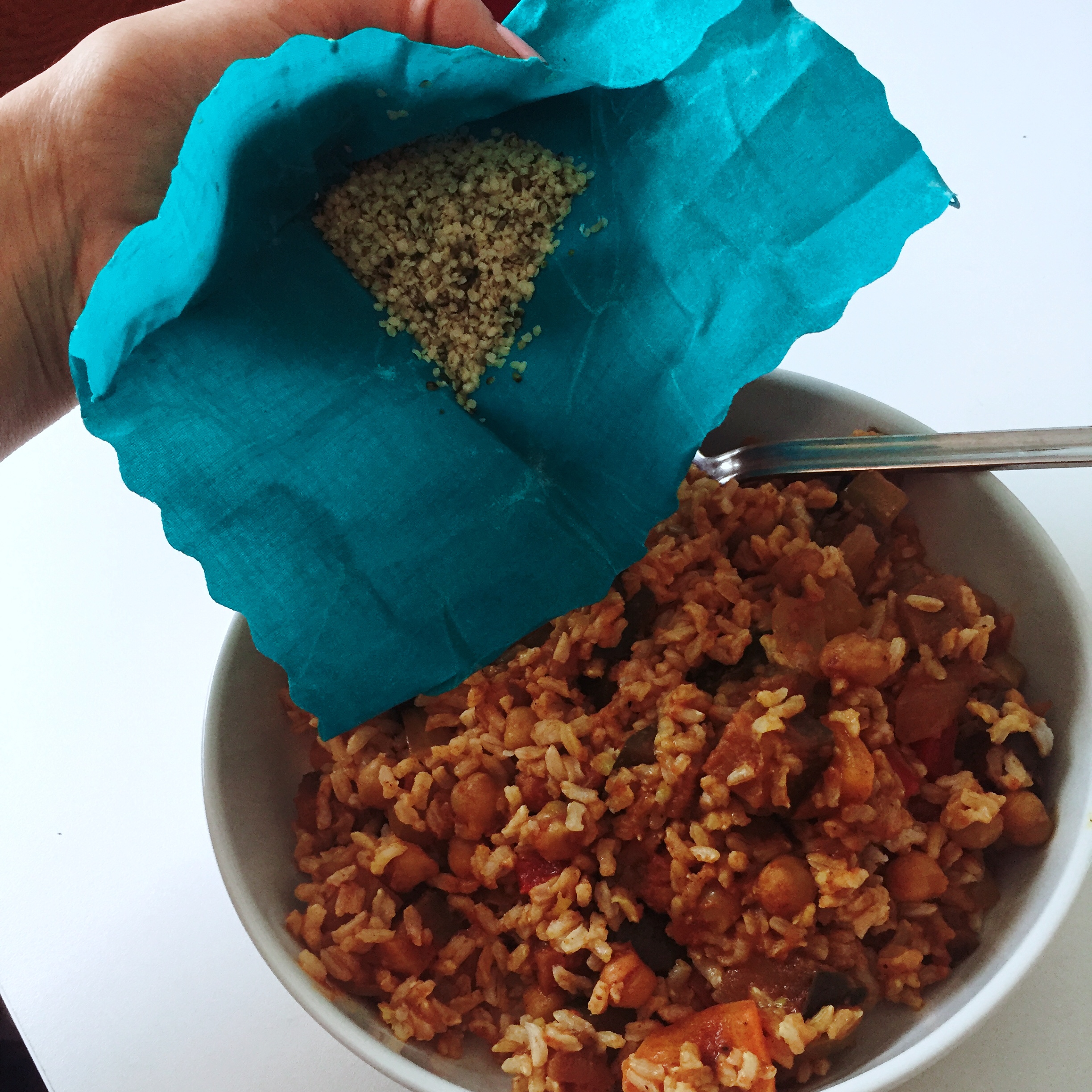 Now you get your healthy fats with your meal 🙂 Excellent for keeping our skin nice and soft in the cold weather!
Get in my belly!
Want to join the community and stay up to date on all things health and beauty? Sign up for my free newsletter here!