When I was younger I used to looooooooove yogurt! Then as I got older, my relationship with milk products changed. They made me, let's say "sick," if ya know what I mean… And then I realized how messed up the dairy industry was so I didn't want to take part in that, but I did miss all those glorious products. Finally, years later, they have coconut yogurt products available. Sadly, most of them are full of ingredients I am either intolerant too, or just wouldn't want to eat. Then, one glorious day, I finally learned how to make my own yogurt with coconut milk and hello world, it's a new day!
Let's just talk about the coconut for a minute. Seriously I think it is one of the healthiest foods in the world. And so versatile. I use coconut oil on pretty much everything….. like everything 😉 But I digress.  Coconut milk, and specifically the coconut cream from the can, is heavenly. Its so creamy and naturally sweet. It's almost all saturated fat. The healthy kind! Fun fact, they did a study on mice (I know, boo! – I am totally against animal testing) testing a lauric acid, which is a type of MCT found in the coconut, against the microbe (propionibacterium acnes) responsible for acne infections and found out it helped reduce activation of a pathway that influences the inflammation. So anyone suffering from any sort of acne, this would be a great item to add to your diet! Also to note, coconut milk is actually full of healthy vitamins and minerals like manganese, magnesium, copper and phosphorous. It is really high in iron too! Also a decent source of niacin(vitamin B3) and folate!
Ok let's get on to the recipe! It is so freakin' easy you will want to make this every week 🙂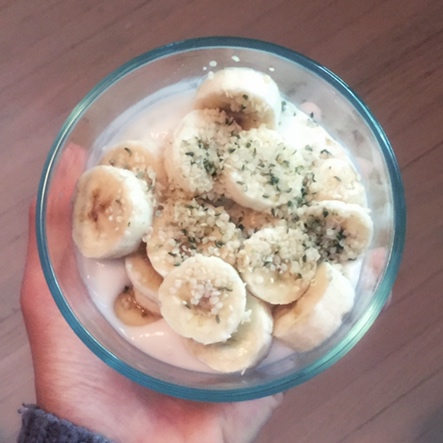 Tools you will need:
Large bowl
Dish towel
Spoon
Can opener
Ingredients:
2 cans of Coconut Milk (Organic preferred)
2 capsules of probiotics (I personally use the Genestra brand and it has worked well)
Natural sweetener of choice – stevia, maple syrup, coconut sugar, etc (if desired)
Prep:
Place the 2 cans of coconut milk in the fridge for a few hours – even overnight if you have the time, so it stiffens and is easier to scoop the cream off the top!
Instructions:
Take the 2 cans of coconut milk out of the fridge and remove the lids.
Carefully scoop the dense, white cream that has risen to the top out with a spoon and place it in the large bowl. Do that for both cans, leave the watery more clear coconut milk in the can for now.
Open the two capsules of probiotics and sprinkle on top of the coconut cream and stir it up really well.
Next take your dish cloth and cover the bowl and place it somewhere dark that is safe. I put mine in the cupboard so no curious kitties try to sneak some :p
Now leave it sit for approximately 24-48 hours. You can start testing the taste after a day. I found my sweet spot to be about 36 hours.
If it tastes sour or weird in any way throw it out! I personally haven't had any issues like that. I just make sure my bowl is squeaky clean 🙂
You can next add any sweetener you like, and store it in the fridge! It's ready to eat! I personally like it plain and add fruit and hempseeds to jazz it up, but honestly, it tastes so good you could eat it plain!
Make sure you don't waste the left over coconut milk. I just pour mine into an ice cube tray and once frozen, pop them into smoothies!
If you try this recipe let me know what you think 🙂
Want to join the community and stay up to date on all things health and beauty? Sign up for my free newsletter here!
References
https://www.thesuperfoods.net/coconut/how-and-why-coconut-oil-helps-in-inflammation
http://foodfacts.mercola.com/coconut-milk.html#_edn10
http://nutritiondata.self.com/facts/nut-and-seed-products/3114/2